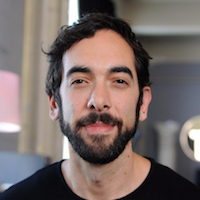 Steven Schkolne
The Vain Company
Steven Schkolne is one of the world's foremost experts in interface design. For his PhD at Caltech he built the world's first full body VR painting software, laying the foundation for many of today's VR builders such as TiltBrush and Quill. Today he continues to forge new paths with his innovation agency The Vain Company, which has done everything from building AR apps for kids in partnership with Crayola, to making the world's first robots react movie trailer for Fox, to building a life saving VR training application for utility workers. He puts his tireless exploration of the past, present, and future of computation, into frequent Medium articles, including a recent series on machine consciousness.
---
Day 2, 17:20 -

A New Oracle for Predicting Future Technology
Everyone wants to know what's coming next. Science fiction, our trusted oracle of future technology, has failed us again and again. So what can we use? In this talk I present a new model for looking at the emergence of killer technologies. I'll take you on a whirlwind tour from the earliest history of electronic computing to the present. We'll see how some factors arise, again and again, to shape machine evolution. I will describe how these forces shaped the recent emergence of mobile computing and virtual reality. Then I will project forward, applying my model to the speculative technologies of today (AR, blockchain, etc). Using this model, we in the tech world can apply our efforts to the true new future, as opposed to the dim, regressive fantasies of sci-fi.