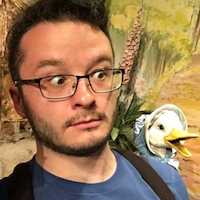 Rob Ashton
Independent Consultant
Rob is an ex-enterprise .NET consultant and has the scars to show for it - however for the last four years he has been working with a small (distributed) remote team as a full time Erlang+Elm developer in the media streaming industry.
Primarily residing in Glasgow and trying to resist the temptation to live on a diet of deep fried mars bars and whisky, he has over the last couple of years also become a part time barista and has even competed in several national coffee competitions. Most notably he came 2nd in the Scottish Aeropress championships and last in the coffee cocktail competition after spilling cream over the stage and almost setting the judges hair on fire.
---
Day 1, 14:50 -

Zero Support in Production
For the last several years, I have been working in a very small team, both building and deploying/supporting bespoke products that power upwards of half a million live video events a year, as well as forming the backbone of various television services across the UK. For some of our customers, it has been half a decade since we received a support call and indeed it is a virtual non-happening that anybody has to get out of bed to solve a problem in production. A lot of this results directly from our use of Erlang+OTP, and there are then wider patterns that have arisen across our code-bases and even the manner in which we provide support to our clients.

In this session, we will be using examples from our real-world projects to demonstrate how we build, deploy, and then support hundreds of services and hundreds of thousand of events a year in across both the cloud and our on-premise as well as also covering how our software stack ensures that on a bad day, our services carry on delivering content even when servers are catching fire or somebody has spilled coffee on the datacentre power supply.