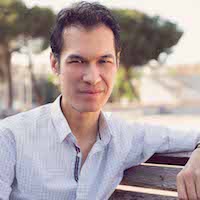 Richard Lewington
Plain Concepts
CELTA, IDLTM, Dip TEFL, Microsoft MIE (Certified Microsoft Innovative Educator)
Richard Lewington is a Marketing Project Manager at Microsoft Mixed Reality partner Plain Concepts, Examiner & Invigilator at the University of Cambridge's assessment department & Teacher Trainer at The TEFL Academy in Madrid, Spain.
He has gained over 10 years experience teaching in a number of large corporations including Iberia, Clifford Chance & Barclays Bank, as well as through consulting for governmental institutions such as the Spanish Ministry of Industry, Tourism and Commerce, Ministry of Health and Social Policy & the Ministry of Science and Innovation. He is also the author of the award-winning book 'Stop Speaking Spanglish'.
His other achievements include participating in a Guinness World Record for cake eating in The Netherlands, managing a nightclub in The Canary Islands, and writing commercials featuring Antonio Banderas!
Richard is passionate about educational technology and is an advocate for its increased development and use across the world. As such, he has gained over 30,000 followers on LinkedIn.
---
Day 1, 16:10 -

Augmenting the Reality of Education for the 21st Century
In fewer than 50 years we have seen massive changes in the classroom. From chalkboards to videotapes, the introduction of computers to interactive whiteboards, and now the implementation of Augmented Reality and Artificial Intelligence. But how much learning value can AR & AI actually offer students beyond the "WOW factor"? Are we just rehashing old teaching methodologies and redressing them up with the latest technology? Or should we be exploiting AR & AI's potential as a tool rather than just another medium? Additionally, by integrating 21st-century skills and gamification into our design thinking, we can push the potential of educational applications to the limits! Richard Lewington explores these topics and discusses what we should be doing about them.