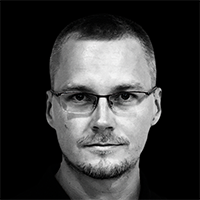 Marek Stój
ImmSoft
Marek is an experienced software developer. During his professional career spanning more than 10 years, he worked with technologies like .NET, C#, Android, Java, Big Data or Scala. Marek is simply a computer geek, specifically fascinated by the ever-growing influence of theoretical foundations of computer science on the IT industry.
Today it is not his career that is important though, because Marek also realized recently, that a passion can easily turn into an obsession which blinds us from the truth - that there is more to life than coding. And this idea, he believes, is worth spreading among fellow IT geeks.
---
Day 1, 16:10 -

Sitting Considered Deadly
Prolonged sitting is linked to myriad health problems and you can't completely mitigate the risks by just exercising in leisure time. The solution to this problem is simple but not easy to implement. This talk will show you the first step to getting out of your chair and fighting for your health.