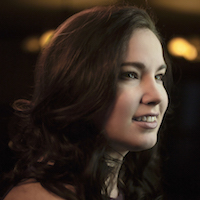 Heather Downing
VML
Heather is a passionate coder and entrepreneur. She has experience working with Fortune 500 companies building enterprise-level voice, mobile and C#/.Net applications. She focuses on external thought leadership, encouraging fellow programmers to present on topics outside of the office and in the community. She is an international technical speaker and co-host of the YouTube channel "The Hello World Show" – a weekly video series that interviews software masters and teaches the audience something valuable in less than 10 minutes.
Heather encourages those with nontraditional backgrounds to enter the world of software development, as she changed careers at 27 and does not have a degree - yet has built a reputation as an early adapter of new tech. She is an advocate of women in tech, and part of Kansas City Women in Technology. When not coding, Heather spends her time as a competitive equestrian and learning the art of mounted archery.
---
Day 2, 11:50 -

Google vs Alexa: Battle of the Bots
Why choose? Support them all! This code-centric talk demonstrates the approach you need to centralize your app logic and handle multiple voice interface ecosystems at once. We will walk through code examples for Alexa and Google Assistant integration, discovering the pros and cons of each in detail.
Day 2, 15:00 -

The Hello World Show LIVE
Join Heather Downing and Spencer Schneidenbach while they interview four masters of our industry live on stage at DevConf. Attendees will get exposed to a variety of subjects in a lightning talk-esque format. Audience participation will be encouraged!