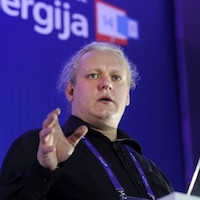 Gunnar Peipman
Independent Consultant
Gunnar Peipman is experienced software developer and active .NET community member from Tallinn, Estonia. Gunnar has grown up with coding and has worked on different Microsoft platforms and technologies right from primary school. Having seen technologies coming, going and evolving Gunnar has deep understanding of Microsoft technologies.
---
Day 1, 11:40 -

Brewing Eisbock Using Windows IoT Core and Azure Services
The core of presentation is my open-source solution (https://github.com/gpeipman/TemperatureStation) that I use to monitor fermenting and ice-distilling temperatures when brewing at home. The presentation focuses on technical and mathematical side of solution and gives very good idea about how to start building serious IoT solutions on Windows platform and how to back these with Azure and Office 365 services to save time and money. Presentation introduces briefly the some problems home brewers face when brewing more complex beers. After stating problems the presentation goes through brief analyzis and then focuses on how to build the solution. Presentation ends with live demo that emulates beer freezing process that is monitored by different apps, programs and web pages.