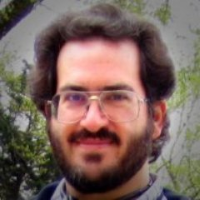 Dave Aronson
Codosaurus, LLC
The speaker, Dave Aronson, has over three decades of professional software development experience, in a wide variety of languages, systems, techniques, and domains, mostly in Ruby for the past several years and mostly in C before that. He is the T. Rex of Codosaurus, LLC in Fairfax, Virginia, a suburb of Washington DC. What he really does is "software development consulting", which means not only cranking out code, but also advising development teams on processes, techniques, and tools; training and mentoring developers; and roadmapping projects. He is married, and co-owned by two cats (see their playlists on https://www.youtube.com/davearonson). He also enjoys dark beers, smokey scotches and bourbons, playing guitar, and shooting targets.
---
Day 2, 10:40 -

ACRUMEN: The Six Key Aspects of Software Quality
Do you like writing bad software? Of course not! Learn about ACRUMEN, an acronym for the six key aspects of software quality in priority order, and how to achieve them. These concepts are timeless and technology-agnostic, useful with languages from the dinosaur days to tomorrow and beyond.